Recent Garden News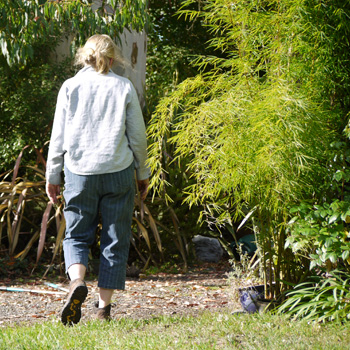 Head Gardener
The Recent Garden News page displays the fifteen most recent additions to Mooseys Country Garden. This should help visitors keep up with what's going on in my garden.
Gardens are always growing and changing - there's always something new to see. And, as I love writing about my garden almost as much as being in it, there'll always be some new Moosey ramblings to read, or new pictures to look at. Perhaps the garden activities of my summer will warm up a northern hemisphere gardener's winter days. I know how much I enjoy my mid-winter garden visits to summery places.
Two weeks can be a long time in the life of a garden. There's inevitably some repetition, so please be understanding if I'm saying the same things over and over again. I hope you'll enjoy seeing what I've been working on recently...
Rain! Seven or eight millimeters. Yeay! We need fifty - spread out, to properly saturate the ground. But thankful for what we get, yes? Definitely yes! So that's rain, finally, for the sheep paddocks, and for the hazelnut orchard, and for the shelter belts, and - last but not least - for my garden...
Right. Lets get this clear. I am allowed to make mistakes in my garden. If I plant something in the wrong place, I am allowed to shift it. No regrets, no recriminations. That's life, as far as my garden is concerned.
I love how unpredictable gardening life is. Some days can be lazy, others super-busy. For weeks it can feel like 'same old, same old' - weeding, trimming, raking... Then out of the blue a friend gifts me her whole garden (the house on her property is soon to be demolished). Wow!
Had such wonderful plans for today. I was going to spend the afternoon doing Girlie Gardening. Sorry, but that's what I call it. One gets out the coloured pencils, draws a wee map, and colours in everything. The path is shaded a delicate brown, miniature Agapanthus are a zig-zag of blue...
Yeay! My musical life is never dull. I have my wonderful jazz choir. I sing alto in posh Mozart Masses. And now I have been asked to perform in a Bob Dylan 80th Birthday Tribute Concert. This new venture is very exciting
Good morning April. No fooling around for me on your first morning. I have my Silver Swans ballet class. Then I might leap (a grand jete?) into the last stretch of water (by Rooster Bridge) to finish my autumn water race clean-up.
March 2021 has stalled. It's been a month of waiting. Waiting for rain - please, some rain. We are irrigating the sheep paddocks and/or parts of the gardens every night. Waiting for the autumn leaf colour. And waiting for the fire ban to be lifted...
My goodness I have had a great weekend. Why exactly? I've enjoyed some great music rehearsals and some great gardening. The distraction of the 2000 piece jigsaw is gone - it's finished. There are some beautiful colours in my garden, and the greenery is magnificent.
There are many reasons why gardeners keep journals, or write blogs. Some want to provide nerdy information, others to simply share their love of gardening. And occasionally a gardener might think they have something new to say...
I've spent the last few days in the water race (wearing woolly socks and crocs) clearing and trimming the banks. It's quite private in there, tucked away, down out of sight. The water comes up to my knees. Just me, on my own, sloshing about.
Little things add up to a lot, in the garden. Some days I do lots of little tasks. Insignificant by themselves, but wow! I reckon I achieved lots. Maybe not measured in hours spent, but in details taken care of. And in the distance my old green wheelbarrow covers (with me trudging behind).
It's time to start trimming the Shasta daisies. But didn't I just do this, a wee while ago? What on earth has happened to all those months in between? Aargh! Time is getting faster, I'm getting older...
All I need is a garden and a library, right? Yes and no. I'm going to miss singing, but choirs are super-spitty things. We have gone back up a Covid level, so I semi-lock down myself- no choirs, no Silver Swans ballet classes. I have all the time in the world to read books and sort this sad garden of mine out, yes?
To celebrate seventy years of the popular NZ Gardener magazine, a rose by the same name has recently been introduced. I was given one as a gift, and planted it in the Hump's Rose Garden. I can identify with the name of this pretty pink floribunda. Sometimes I even imagine that it was bred specially for me...
I am very happy in my garden. But I am not happy with my garden. Areas that get irrigated are fine, others not so. Bad planting choices, lack of sensible watering plans - hoses not reaching, moisture running off compacted soil... So technically speaking I am not happy with me! Aargh!