Recent Garden News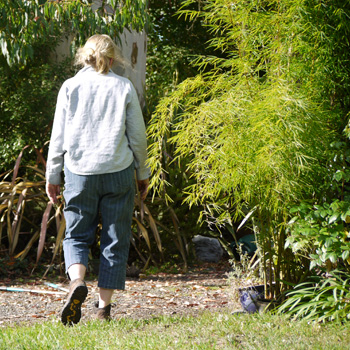 Head Gardener
The Recent Garden News page displays the fifteen most recent additions to Mooseys Country Garden. This should help visitors keep up with what's going on in my garden.
Gardens are always growing and changing - there's always something new to see. And, as I love writing about my garden almost as much as being in it, there'll always be some new Moosey ramblings to read, or new pictures to look at. Perhaps the garden activities of my summer will warm up a northern hemisphere gardener's winter days. I know how much I enjoy my mid-winter garden visits to summery places.
Two weeks can be a long time in the life of a garden. There's inevitably some repetition, so please be understanding if I'm saying the same things over and over again. I hope you'll enjoy seeing what I've been working on recently...
Allow me to present another wee list entitled 'Things I Am So Glad That I Did'. Such lists are a good balance for the 'Oops Why Oh Why did I Plant That?' ones, of which I have quite a few.
Some days I am a so-so gardener. Some days I am just slack. And then some days I am absolutely fired-up, committed, and I keep on going. If it's too sunny, I just move to a shady place. I garden with my heart and soul, giving one hundred percent...
Something has just occurred to me, something that should be glaringly obvious. I've been busy taking photographs of the roses. There are so many! Not too many, mind you, but lots and lots of pictures. Wow! So many!
Am still digging out Alkanet and Campion. I've been working my way into the Hump garden underneath the rose arch where Autumn Sunset is providing the beautiful colours of an early summer sunset. Pink Grootendorst is gorgeous, and the hybrid rugosa David Thompson is oh so floriferous. He just pushes the pink Campion aside.
I'm spending each day cleaning up mess while making lots more. At the same time, hee hee. Pretty clever, eh?
It's high time I pulled out the old Forget-Me-Nots. This is serious stuff, and I have already made my first mistake - wearing my good woolly socks. Oops. Spent fifteen minutes last night slowly picking off the seeds.
Took some nice (but unexpected visitors) for a wee garden tour this morning. Oh boy! Should have been oh joy! Heard myself making excuses, justifying my garden mess. The lawns needed mowing - but you should see how beautiful everything looks when I've trimmed the edges... And so on and so on...
After a couple of really rainy days (nice for the garden, maybe not so for the gardener) the sunshine is back. Am enjoying the lighter look of the Stumpy Garden now that those silly Oak trees have been removed. The big rhododendrons that grow there are flowering now, and they are so beautiful.
Welcome to November. There are so many wonderful new things to see in the garden, and quite a smattering of early roses. November is a rather beautiful month. No, make that a very beautiful month...
A lovely, lost weekend - my big Saturday ballet performance is over (I wobbled a bit, but oh boy did I have fun). My big singing Sunday is over. And October is almost over - just two gardening days to go. So what to do first? Some watering.
My beautiful black cat Buster has transformed into a gardening cat. She appears, silently, slinking through the forget-me-nots or peeping out from the greenery. She is always watching me gardening.
Am dithering inside, wearing a creamy-white top - the perfect item of clothing in which to dither. One does not go gardening in creamy-white tops. But one can certainly hang the washing out and check on the Banksia lutea (which is destined for the chop, so to speak).
The yellow Banskia rose is blooming at the moment. It is gorgeous. But it is a gorgeous thug, and the fate of this current version is sealed. When the flowers are finished, all the sprouting canes are coming off. This monster rose, not content with bringing down a huge plum tree in 2016, has now brought down a tall fencepost and half my washing line.
Oh joy. Have been working hard all day barrowing mess to the bonfire. On it puffed, flaming merrily, and off I plodded to get load after load. So one has to clean up a garden, in order to enjoy its beauty. I know that. Though one could have the beauty with someone else's hard work...
Well, well, well. My first day without going back to bed in a sulk. I am almost well again! And it's raining, wonderful wind-free rain, so the garden immediately looks refreshed and recharged. I've walked the dogs four times - have apologised to them for being THE most boring human ever, last week.