Recent Garden News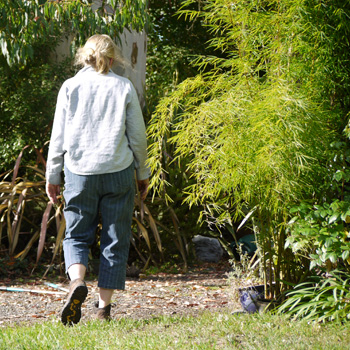 Head Gardener
The Recent Garden News page displays the fifteen most recent additions to Mooseys Country Garden. This should help visitors keep up with what's going on in my garden.
Gardens are always growing and changing - there's always something new to see. And, as I love writing about my garden almost as much as being in it, there'll always be some new Moosey ramblings to read, or new pictures to look at. Perhaps the garden activities of my summer will warm up a northern hemisphere gardener's winter days. I know how much I enjoy my mid-winter garden visits to summery places.
Two weeks can be a long time in the life of a garden. There's inevitably some repetition, so please be understanding if I'm saying the same things over and over again. I hope you'll enjoy seeing what I've been working on recently...
Funny how one's cat memories bubble up when least expected. Early this morning ginger Percy, dearly departed for years, wandered into in my dream. Percy had come home - I patted him, and he knew me. Smooch! Dear Percy! Perhaps I've wandered past your last resting place without even knowing
I've been weeding in the Hump's new rose garden, and it's inspired me to do some serious rose naming research. Oh boy! I've bought so many roses over the years, then shifted them hither and yonder...
Weather warning! Thunderstorms, with large hail and very heavy rain coming. Possibly. The local council has sent me a warning e-mail. No mention about gardening, though every other activity seems to be off-limits. So I will stay inside and do some web gardening.
What do I want to achieve today? Garden happiness! Let's try again, something more specific please. What do I want to achieve today? Sorry, nothing more specific. Just garden happiness.
What's today's plan? Does today even need a plan? It's sunny again, after overnight rain. I could write a list, but that would be awfully controlled for such a beautiful day. I feel like doing something 'atmospheric' - like standing in the water race, and weeding the banks.
Enjoying the big roses, filling my garden with colour and beauty. Crepuscule, you darling, with your pretty little white clematis friend. Paul Transon on the woodshed - hello! And greetings to Alberic Barbier and Monsieur Tillier. Big is beautiful in a country rose garden.
When I buy a rose I usually rip off its label, thinking I'll never forget the name. I've got a good memory, right? And guess what? I do forget, quite quickly. And so the rose Monsieur Tillier spent years growing happily and anonymously in my garden.
Finally, all the rescued shrubs are planted. It didn't take me very long, but I'd planned all the locations, and the garden areas were cleared and ready to receive. Ha! Preparation is everything, apparently.
Whenever I have any new sunny spaces in my garden, naturally I think of roses. So my plan for the new Hump Garden was simple - roses, and then some more roses. To formally christen the area I bought an apricot Charles Austin rose from the supermarket.
It's the day of the big dig - where Non-Gardening Partner helps me remove unwanted shrubs and plants from my friend's garden. If I don't take them they'll be put in a skip and dumped - an awful fate. But do I need more plants? Best not answer that. It's a plant rescue!
A friend has just moved, and her new property has five roses she doesn't want. I'm off around there to dig them up. I don't actually need any more roses, but hey! They need a new forever home, and just might be amazing and beautiful, like Mary rose (my namesake, hee hee). OH. MY. GOODNESS. I'm back. Did she say five roses?
I love my late spring flowering shrubs. And I love the Wisteria - I have my tea/coffee breaks sitting on the patio underneath, and the perfume is just gorgeous. But how quickly time is scuttling by. Wasn't it just yesterday that the Daphne was the fragrance de jour?
Taking photographs of the rhododendrons by Willow Bridge this morning. So beautiful! So I stayed there, to tidy the gardens. Now my camera is lost - hopefully not mulching under a pile of weeds. Oh camera! Would that you could whisper to me : 'Over here! Underneath the Iris confusa!'
Wow. I need time to catch up. With my garden. With my garden journal. And with November, which is starting to fill up with the first 'proper' roses. Don't mean to insult you, Canary Bird (my earliest, a species rose which flowers in October).
I have just visited Flaxmere, a large country garden in the South Island, New Zealand. The garden surrounds the homestead of a high country farm, with three hectares of paths, ponds, trees, shrubs, roses, ornamental grasses - everything under the sun! It's said say that Flaxmere is a garden with 'good bones'...