Recent Garden News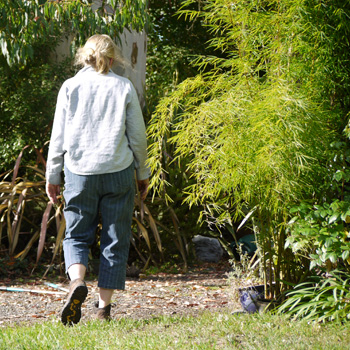 Head Gardener
The Recent Garden News page displays the fifteen most recent additions to Mooseys Country Garden. This should help visitors keep up with what's going on in my garden.
Gardens are always growing and changing - there's always something new to see. And, as I love writing about my garden almost as much as being in it, there'll always be some new Moosey ramblings to read, or new pictures to look at. Perhaps the garden activities of my summer will warm up a northern hemisphere gardener's winter days. I know how much I enjoy my mid-winter garden visits to summery places.
Two weeks can be a long time in the life of a garden. There's inevitably some repetition, so please be understanding if I'm saying the same things over and over again. I hope you'll enjoy seeing what I've been working on recently...
Maybe most gardeners have the solitary gene. Pianists, too, are used to being the only one. And I am both these things. So being locked-down is easy for me, right? Got my piano, got my garden, so I'm OK. So, after four, or five (or six, or more) weeks, my garden will be immaculate and my Bach will ripple along effortlessly?
Day six of giving thanks, keeping safe, staying patient, keeping busy, and gardening. Enjoying the real-time company of my cats and dogs. Touching their fur - so lovely, but I've always known that...
My goodness - almost a new journal page each day. As usual I have a lot of nothing to say, but writing has always helped me connect, and that's a pretty important thing to be doing at the moment, yes? The hoses are already on, watering the Stables Garden. I've made blackboy peach jam (flooding the microwave, oops). I've transplanted more Agapanthus...
Conversations with my cat : 'Good news!' I told Minimus, slurping my early cup of tea on the cottage verandah. 'You may not believe this, but I am seventy years old. I have to self-isolate and stay home. That means you'll see much more of me.' Minimus, sitting sedately on my lap, dug a claw slowly into my knee...
Am hiberbating in my country retreat, hopefully out of viral harm's way. I've started sorting out the Stables Garden - so far, so good. Four sad roses have been removed - two were beyond help, two others (severely pruned) are in pots. I also have a pot of purple Ajuga, pulled put of the nearby lawn.
Am starting a two week period of laying low, following my scientist daughter's advice. I've promised her I'll be sensible. No outings to swimming or ballet class. This morning a sneaky farewell cafe visit for coffee with my friends. Then I go into the garden for a fortnight...
The end of another worrying week, with more and more official virus announcements. And I'm worrying about my dog Winnie, trying to rest and heal her dodgy back leg. Ha! A new W-word. It's usually W for Weeding.
Browsing my Fine Gardening magazines, I see the most beautifully planted containers. I have photographs of beautifully presented pots in open gardens. Putting the right plant in the right pot in the right place is definitely an acquired skill.
What an odd, sad world it is out there, with Covid-19 zooming around. Definitely can't ignore it, definitely can't let it dominate. So glad I don't have to travel. But it's worrying even for stay-home gardeners too. I feel really sorry for the world, if that makes any sense.
Yeay! Temperatures are finally a little cooler. Autumn is coming. The sun's angles are lower in the sky. The lawns are greener. And the garden? Even scruffier than last month. The scruffiest! Scruffier than my garden has ever been before.
So now I'm trimming the Anemanthele grasses - I always plant them too close to the lawns or the paths, and their feathery seed stems trip me up. It's already taking me ages to trim all the Shastas, and I haven't finished the Lychnises. Hmm... Trim, trim, trim...
My gardening journal has been offline for almost four weeks now (the data base broken), so the February 2020 web-version of me has been somewhat invisible. It's been a bit sad - you see, I really enjoy the website. Something's missing in my life...
My two lives of web-gardening and real gardening are blurred. The Moosey website can't be updated at the moment, so nothing in my garden is being updated, either. Oops. I also seem to have stopped writing. This will not do! Soldier on, I say.
A week in mid-February - what should I do? Some wondering? Wondering what to do next? Watering? Wandering around? Walking with the dogs? Weeding? All of the above, but yes, definitely some weeding. I need a weeding week. Sorry, dogs. This must sound quite boring for you.
Yeay! Rain - enough to soak the lawns and paddocks and give some natural relief to my garden. Yeay for rain! And I'm loving my uber-adult ballet class. So much fun. My super-stiff gardener's body is coping quite well...