Recent Garden News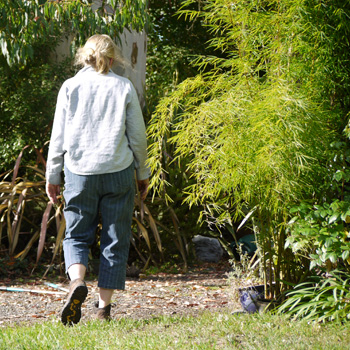 Head Gardener
The Recent Garden News page displays the fifteen most recent additions to Mooseys Country Garden. This should help visitors keep up with what's going on in my garden.
Gardens are always growing and changing - there's always something new to see. And, as I love writing about my garden almost as much as being in it, there'll always be some new Moosey ramblings to read, or new pictures to look at. Perhaps the garden activities of my summer will warm up a northern hemisphere gardener's winter days. I know how much I enjoy my mid-winter garden visits to summery places.
Two weeks can be a long time in the life of a garden. There's inevitably some repetition, so please be understanding if I'm saying the same things over and over again. I hope you'll enjoy seeing what I've been working on recently...
Scary stuff. A new year, a new idea. I have a silly new non-gardening idea for 2020. Adult ballet classes! That is, very mature adult ballet classes. Oh my. I am going to join the Silver Swans (that's the name of the dance programme).
Still happily sorting out the summer scruff. So far today I've looked at two needy garden areas. But not just look - I started remedial action! Worked for an hour on each, managing to stay in the shade. So started, not finished. But that's summer gardening life, I guess.
Have just taken my early cup of tea around the garden with the dogs, looking for things that need doing, garden areas that need my immediate attention. Ha ha! Might as well have shut my eyes, stopped after a random number of steps, and then started work. Everything needs doing!
I've been working in the shady gardens around the Pond Paddock for the last week. While I've been away (just over the house fence), the sunny areas have suddenly become summer-scruffy.
Eek! The gum trees are shedding strips of bark - all over the gardens and lawns. And another eek! for good measure. It's time to start trimming the Lychnis, which has suddenly become spectacularly messy. And one does so much bending over when cleaning up such garden mess...
Inspiration while sitting on Pond Cottage's verandah with my early morning cup of tea and my cottage cat. What do you think, Minimus? I am going to redefine (euphemistic, this word) the far edge of the Pond Paddock border. More shrubs, less lawn. Miaow?
Aha! This morning my head is full of rosy gardening ideas. It's a be kind to my roses day. They are mainly dead-headed (or should be), their early summer flowering finished...
It's those same old two phrases, I'm afraid. Out they come again, and they are inexorably connected. 'I did my best'. 'But I didn't finish'. Aargh! So many times have I whispered these, trying not to feel garden-guilty.
Some years ago, in the summer of 2011, I decided to eradicate the invasive Lamium from the garden by the pergola. Ha ha. A wee botanical joke, that. Now it's summer, 2020, and that Lamium is everywhere again. And once more, out it is coming. Nine years' worth of it. Aargh!
Good afternoon to my January garden, to my new camera (so groovy), to my dogs (a bit bored), and to Non-Gardening Partner (avoiding me). Would he like to do some New Year's chainsawing? 'Not terribly, no.' Very polite, don't you think? And good afternoon to the New Zealand cricketers, battling away in Sydney...
Here are my gardening articles for the year 2020. But will there be anything new to write about? My garden exploits have always been repetitive, and the journal contains my erratic, day-by-day gardening ramblings. A few well-crafted, focussed articles on set topics would be nice - preferably ones that don't moan about the weeds or the weather, hee hee. As in everything, I will do my best.
Shrub size is puzzling. I must be either very unobservant (please no) or I live, visually at least, in a gardening dreamworld, seeing only what I want to see. I have no sense of shrub dimensions : when they're comfortably medium-sized I never sense trouble. They simply look grand, the perfect size, fitting the space I've given them...
OK. How can I be a more interesting person when all I do is weed and trim and pick up gum tree bark from the lawns? I am a trundler of wheelbarrows, a spreader of horse manure, a scooper of mulch. Doesn't sound interesting at all.
Confession. I think they are silly. But I have made one little personal New Year's resolution. It is as follows : In 2020 I am not going to be boring. I am going to be interesting. Hmm... And who will be the judge of this? Me, hee hee...
I have created the best New Year's resolution ever! In 2020 I will get Non-Gardening Partner more actively involved in helping me in the garden. Think of it as a prelude to his retirement from work, if you like. No longer will I be vague and undemanding. He will not escape so easily in 2020!