Recent Garden News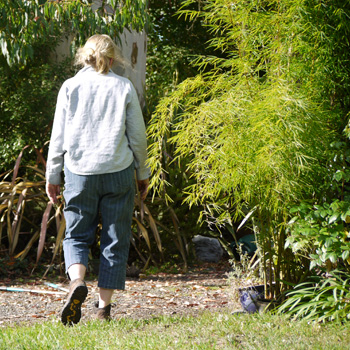 Head Gardener
The Recent Garden News page displays the fifteen most recent additions to Mooseys Country Garden. This should help visitors keep up with what's going on in my garden.
Gardens are always growing and changing - there's always something new to see. And, as I love writing about my garden almost as much as being in it, there'll always be some new Moosey ramblings to read, or new pictures to look at. Perhaps the garden activities of my summer will warm up a northern hemisphere gardener's winter days. I know how much I enjoy my mid-winter garden visits to summery places.
Two weeks can be a long time in the life of a garden. There's inevitably some repetition, so please be understanding if I'm saying the same things over and over again. I hope you'll enjoy seeing what I've been working on recently...
Aha! I have done some proper winter gardening. Not so much, but some is better than none. And not just raking leaves, either (though there has been some of that). Today I've been planting! Yeay! It's drizzly but not too cold - yet.
It's winter. Ta da! Fanfare of trumpets, as out come the warm winter garden clothes, woolly socks, hat and gloves. I have big plans for this rather ominous day, the first day of winter. First, the bonfire ash needs to be scooped up and spread in the orchard. I rather thought the tractor could do this...
Interesting botanical fact : only eleven New Zealand native trees are fully deciduous each winter, and they don't seem to provide any autumn colour. All my beautiful autumn trees are immigrants from the northern hemisphere. They are all so very welcome.
I've been helping Non-Gardening Partner clean up suckers in the Hazel Orchard. This is farm work, rather than gardening, which might explain why the orchard's climbing roses get a little neglected (oops). Animal farm : Pebbles the dog comes with us, and sits staring at next door's cattle.
he so-called new leaf - it's time to turn it over. A most peculiar phrase, and not really garden-applicable. Have mooched through Winnie the dog's first post-operation week. No need to do this any more. All is OK.
Have just take Pebbles my younger dog for her orchard walk and talked to her. Have made a promise to her to be nicer and more understanding. Because sometimes, just sometimes, I lose patience with her - big time!
Update on Winnie the three-legged dog : She has her cranial cruciate ligament surgery tomorrow. Dear dog. Then she will enjoy some tough-dog-love in a crate for six weeks. By the way, I love the vet. Vets are wonderful. Have been so sad about Winnie. But now there is a solution, and I feel so much better.
I have a plethora (such a groovy word) of plans for today. I fill the trailer with firewood, collect pine cones, then do more bonfiring of flax leaves and gum tree bark. And then, some planting behind the pond. Planting! Nice - finally something lovely and creative.
Heard one of those ear-catching phrases on the news this morning - an economist talking (optimistically post-Covid) about the country's 'Profile of Need'. Aha! What about my garden's 'Profile of Need'?
Took the day off from the garden today. Organised Non-Gardening Partner to pick up a trailer load of horse manure bags. Did my ballet class, went out for a real visit to my friend, then home to do piano practice (Albeniz) for ages. Made a cup of tea, finished my library e-book...
Day Five of my autumn bonfire, and I'm targeting the huge piles on the fence-line by my driveway. Fill the trailer twice, maybe, and keep on barrowing out loads from behind the pond when I get bored. Bored? Humph.
Day Four of my autumn bonfire. It's still a slight novelty - don't worry, I will stop counting the days soon. Good morning. And what a morning it has been! I am so happy (and stinky and smoky)...
It's day two of 2020's big autumn bonfire. The weather is quite warm, with no wind. Blast! I rather like the wind (great excuse not to burn, hee hee). So here's the plan. Winnie the dog has had a slow walk with me to check on the bonfire. Then twice around the orchard briskly with Pebbles...
What a horrible, horrible day! Don't worry - am being a bit dramatic here. I lit the first autumn bonfire. And immediately, in came the wind to whoosh the smoke this way and that, mainly all over me. Humph. Great timing - not!
The fire ban has come off. And there's nothing quite as horrible as a bonfire, particularly on a beautifully warm blue-skies autumn day, far too nice to spoil. But wait! Sanity prevails, in the form of Non-Gardening Partner...