Recent Garden News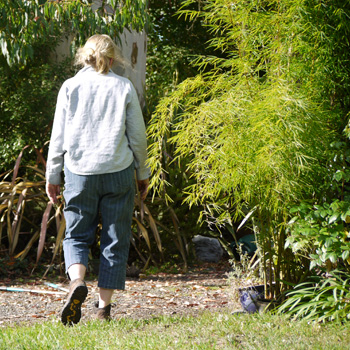 Head Gardener
The Recent Garden News page displays the fifteen most recent additions to Mooseys Country Garden. This should help visitors keep up with what's going on in my garden.
Gardens are always growing and changing - there's always something new to see. And, as I love writing about my garden almost as much as being in it, there'll always be some new Moosey ramblings to read, or new pictures to look at. Perhaps the garden activities of my summer will warm up a northern hemisphere gardener's winter days. I know how much I enjoy my mid-winter garden visits to summery places.
Two weeks can be a long time in the life of a garden. There's inevitably some repetition, so please be understanding if I'm saying the same things over and over again. I hope you'll enjoy seeing what I've been working on recently...
Rule number one of garden blogging : have something garden-ish to write about. Rule number two : never blog when feeling tired, or grumpy, or sad. Oops. Am a bit sad at the moment : about the state of the world's climate, about Lilli-Puss...
My July is trundling along at a somewhat leisurely pace. It is an extremely measured month, full of the loveliest browns and greens, with the tiniest splashes of flower colour. Am trying to be disciplined and spend time every day in the garden, no matter what the temperature.
Good morning, July. So you're the rose pruning month, yes? Well, I've pruned one white Iceberg. Wow! Guess what? Today I'm planning to prune some more. That is, as soon as I've trimmed the remaining Gunnera in the water race, and raked up some more hedge trimmings, and planted a large green Phormium by the house. But, since it is mid-winter, I am still inside contemplating the outdoors temperature...
I've been burning Leyland hedge trimmings and dead Phormium leaves, while doing some pretty deep thinking about my animals. Particularly Lilli-Puss, my lost-and-found cat. She is a very sweet, loving cat, but naturally timid and cautious, and doesn't really want to come out of her room. I put on my sweet voice, I tempt her with food...
There's so much to do in the winter garden. For example, bonfiring. Blast. All those hedge trimmings, lying around on the grass. Don't really want to think about them, write about them, or do anything with them. But they have to be cleared up. And that's that!
New strategies in the rehabilitation of my lost and found cat Lilli-Puss, who is shut safely in my sewing room. Naturally I am taking her reintegration into my house extremely seriously. Read on...
I am here. My winter garden is here. The hedge trimmer has gone, leaving lots of mess behind. I am procrastinating, naturally. But the bonfire is ready to go - sorry about this, but needs must. Aargh! Prepare for lots of tedious updates...
My garden suddenly looks soooooo wintry! And it's still busy and noisy - the roof painters are painting on, while the hedge trimmer has been trundling up and down the hedges, blades whirring. I walked the dogs, then I'm sorry to say I escaped off to chamber music...
Something amazing and really, really scary has happened. Lilli-Puss, my grey cat, went missing six years ago. Six years. Last night a letter was popped into my letter box. Lilli is at the SPCA. The rather unfriendly generic note uses the words 'liable', 'required' and 'urgent', and quotes the Disposal of Animals Act. Eek!
A good winter's morning to my garden, my gardening journal, and my cats and dogs. You will not see me this morning - I am woofing and plonking. Let me explain. My friend and I (two enthusiastic, mature musicians) are playing chamber music - flute sonatas by Bach and Poulenc.
An ultimatum. I have been an indoors lazybones these last four days, poking around on my website, ogling at photographs, updating tired old web pages. Today I do some proper winter gardening. Outside! I work in the Jelly Bean Border and the Pond Paddock.
Finally the rain has stopped here. The birds know - they were much noisier and busier first thing this morning. The cats can now be out and about without getting drenched. There's actually some sunshine - and blue sky! Yeay!
A severe rain warning. A once in a decade rain event forecast for us. Oooh. Is this exciting? It is for the aquifers. Not for people living near some of the rivers. Too late for the grass growth in the paddocks. My garden will absorb it with good grace. I am blessed with free-draining soil. Hope others will be OK.
Funny day. One of those gardening days where it took ages to accomplish very little. It's that dratted bonfire. I worked hard at it, barrowing and burning. Just one more load, I kept telling myself. And no leaves allowed - they go in bags. Except gum tree leaves.
It's raining. Looovely! No gardening for me - have been to the country library instead. Then I sat in a cafe on my own having a coffee, thinking about life and worrying (unnecessarily, I know) about my cats and dogs...