Recent Garden News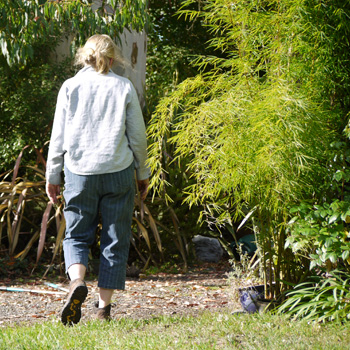 Head Gardener
The Recent Garden News page displays the fifteen most recent additions to Mooseys Country Garden. This should help visitors keep up with what's going on in my garden.
Gardens are always growing and changing - there's always something new to see. And, as I love writing about my garden almost as much as being in it, there'll always be some new Moosey ramblings to read, or new pictures to look at. Perhaps the garden activities of my summer will warm up a northern hemisphere gardener's winter days. I know how much I enjoy my mid-winter garden visits to summery places.
Two weeks can be a long time in the life of a garden. There's inevitably some repetition, so please be understanding if I'm saying the same things over and over again. I hope you'll enjoy seeing what I've been working on recently...
Ha! I'm having an 'I Am So Lucky' week. I've even written a list! For example, I am so lucky that I have such a fine bunch of brightly painted garden gnomes. And it goes without saying - I am so lucky that I have a garden with a pond for them to enjoy...
The sheep in the orchard paddock have just had an amazingly interesting day. First of all, into the far sheep yards for some worm treatment. Yeay! Then the gates open like magic and off down the driveway we trot. Go straight. Follow the sheep in front. Which sheep? It doesn't really matter.
Long term August gardening challenge : to prune my two hundred roses without too much blood-letting. Short term challenge : to clean up, trim, jettison, divide, and repot all the house patio pots. Don't forget the succulents. And put the Pelargoniums in the glasshouse before the frost kills them off completely. Oops.
Nothing is ever finished. Ha! Story of my garden in four words. But I have no trouble finishing things in my mind - funny that. The perils of visualisation - where the real gardening day just leads on to tomorrow, and then the next tomorrow, and so on.
July is a winter month in my garden, and has been misbehaving. The month is at fault, not the gardener, you understand! After several foiled attempts to get going, here's yet another fresh start...
Today is going to be different. It is going to contain gardening. No more excuses - like drizzly weather, or cold weather, or rain, or dogs with buckets on their heads needing supervision. Oh boy. Another fresh start?
Thank you, July, for some blue sky and sunshine (finally). Please let me never take such winter treasures for granted. And let me never take having two fit dogs in good health for granted. Both are convalescing at the moment : Winnie in a crate, Pebbles with stitches and a bucket on her head.
No gardening today. Have been looking after Pebbles the dog, recovering from a wee operation at the vet's. The silliest, tiniest grass seed had burrowed its way into her rump, resulting in infection, a cut with four stitches, and a slim-line bucket on her head for ten days...
Right. A fresh start to July is needed. The winter solstice is now in the past. Hopefully there'll be less drizzle and grey gloominess in the weather. And hopefully I can crank up my gardening volume (which has been rather muted of late). Here's the idea. As long as I do at least two hours each day I will be getting somewhere...
It's yet another grey, drizzly day (we've had a few of these), so all I'm really doing (apart from sniffing and sulking) is walking the dogs. Each time I get back inside my socks (and therefore my feet) feel cold. I'm feeling rather dull. But the garden is full of wonderful little bursts of colour - and lots of green to enjoy. Best to look on the bright side...
It's time I did some good winter gardening. Who cares if it's gloomy and grey and drizzly? I jolly well shouldn't. It's not too cold - just a gentle touch of bleak mid-winter, that sort of thing.
Mid-winter - it's almost time to prune the roses and trim the ferns. And it's almost Camellia flowering time. Yeay! Early bloomers like Weeping Maiden and Tinsie are already 'at it'. Hope their flowers won't be too badly affected by the frosts. The deepest so far has only been minus two degrees Celsius - I enjoy a very friendly, moderate winter climate.
Aargh! It's almost the shortest day of the year, the winter solstice, the turn-around of the gardening seasons (well, not quite - colder days are to come). With everything to look forward to. But at the same time, everything to enjoy in these winter moments, filled with so much variety...
The banks of the water race are getting their annual (well, it jolly well should be annual) clean up. As well as the Gunnera to trim there are Carexes and Phormiums to deal to. And excessive weeds. And Shasta daisies to cut back. So it's time for the donning of the olive green wading suit. Yeay!
Winter weeding. The ground is moist, my knees are muddy, and the weeds slither out of the soil easily, handfuls of them, roots and all. They are all lushly green and very damp. So many weeds! So this is very satisfying weeding, yes? Yes. I suppose so...