Rose Garden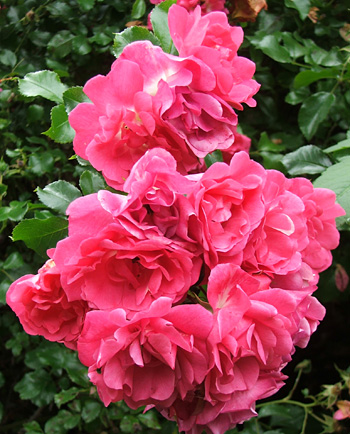 Bright Pink Flower Carpet Rose
I've tried making a list of my top ten roses, like the gardening magazines do. It's impossible - I love them all. Which colour do I prefer? I love all the rose colours! I love striped roses, blousy roses, old species roses, pink roses...
I love how universal roses are. There's equal joy in seeing two or three roses in a tiny town garden or seeing the huge rose panoramas in botanical gardens. A love of roses brings people from vastly different gardens together.
The roses in my garden do NOT get sprayed once a fortnight. I spray maybe once or twice in a whole year, particularly for bad infestations of aphids and/or rust. I'm not happy using nasty chemicals.
I also offer a good country home to unwanted roses, so many of my beauties are recycled and anonymous. And my rose comments are very personal - particular varieties which fail in my garden will be brilliant somewhere else.
I hope you enjoy looking at my rose collection.
I've always adored rugosa roses, and over the years have collected as many as I can to squash into my garden. I check the local nurseries for new hybrids as well as the old-fashioned varieties. I love the foliage, and I've read that they rarely get 'bugged' by aphids. I hope you'll find your favourite rugosa rose in my collection.
My gardening journal contains many photographs of my beautiful roses, far too beautiful to be seen once and then forgotten. So I've collected up the images, grouped according to colour, and put them together on the pages below. All can be found growing somewhere in my garden.
My love of roses is shared with many gardening friends from all over the world. There are some roses which we all know and love, while others are famous only in their country of origin. Here are some of the best loved New Zealand roses.
David Austin Roses need no introduction. Like many other gardeners I have become totally captivated by the old-fashioned look of these beautiful roses. The flower colours are amazing, particularly the subtle pastels, and the rose names are evocative, too.
I don't grow many old-fashioned roses in my garden - yet! I'm interested in getting more, though - and visits to old-fashioned rose gardens always inspire me to write huge lists. I love the history which accompanies old roses, with so many named after real people...
My collection of modern roses is a beautiful mixture of floribundas, hybrid teas, rugosas, and hybrid musks. Some are once-flowering, while others repeat. For their placement I've checked in with my big Botannica's rose book - I'm surprised at some of the roses it classifies as 'modern', but never-the-less here they are.
Anonymous roses in the Moosey garden cannot be ignored. It isn't their fault that they are nameless. There's no shame in not knowing your name, if you're a rose!
The first thing I promised myself when arriving at Mooseys was that I could grow climbing roses. I wanted to copy English gardens with house walls covered in rose blooms, archways dripping with roses, rose walkways, roses on pillars, on fences...