English Gardens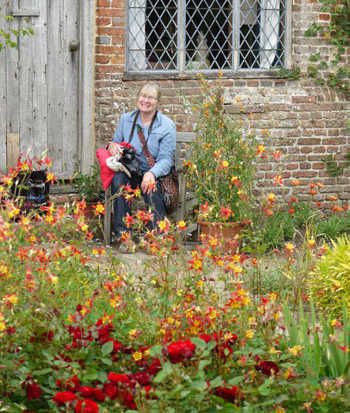 Head Gardener at Sissinghurst
English gardens are very influential. They can inspire twin herbaceous borders, pleached rows of Hornbeams, or poultry shaped topiary. They've led generations of copy-cat gardeners all over the world down quite a few garden paths - myself included.
Books on English Gardens fill bookcases and cover coffee tables. All the pictures look amazingly green and pleasant - and moist. I wonder if English Garden photographers have a lot of down-time, waiting for the 'moist' to stop 'moisting'!
Everyone in the gardening world has heard of the famous English dry garden, the boutique English coastal garden, and those English lost gardens in Cornwall. So many gardens, so little time - if you're lucky enough to visit in person!
And if you're not, ramble through some favourite English Gardens here, right now. You don't even have to leave your seat! And, of course, you really must visit Sissinghurst...
The Mooseys London Team visited Beth Chatto's Gardens on a late autumn day. The website manager's mother shopped in the nursery for bedding shrubs while we walked around the extensive gardens. We had a cup of tea in the cafe, then left as the sun set.
Bridgwater has special significance for this gardening team, as Moosey was born here before moving to New Zealand. Likewise, Eggy feels a connection to the area, with the bloodline coming from there. We were treated to Bridgwater's annual flower show, last August Bank Holiday weekend.
London is often described as the greenest city in the world. The more exclusive squares are closed off to the public by traditional black iron railings, accessible only by the few key-holders. When the London Parks and Gardens Trust held an Open Squares weekend, the nosey public (including Mooseys UK Team) turned out in droves!
The churchyard is behind St Giles Church in Camberwell, London, and gives Church Street its name. It is a typical urban English churchyard in many respects...
My visit to Winsford Walled Garden happened on a whim. It was an exciting idea - a train and bus to North Devon, a real gardener to meet and talk to, and the magic of some original Victorian walls and greenhouses.
I visited Hestercombe during a random cross-country car trip to Heathrow - it was the very last day of my garden visiting holiday in England, enjoyed in 1997...