The Hump
Garden areas often get far more romantic names than they deserve. Not so The Hump - it's one of the more down-to-earth Moosey garden places - dry, very sandy, and humpy! Early planting schemes have failed, but lately there is some native progress...
The Hump
The Hump has always been a difficult area in which to garden. Originally it was one of the long low sand dunes in the river flood plain, planted with shelter trees like pines and eucalypts.
In the early days of the Moosey garden the Hump was made 'humpier' by the Head Gardener dumping much soft garden rubbish here. This is the home of all her excess red dahlias, and they flower beautifully every year, unaffected by rejection. Good on you, red dahlias!
In spring the Hump's paths are pleasant - purple flowering honesty carpets the ground, and the feeling is lush and moist. But in other seasons there's a mess of gum tree leaves and bark to wade through, and no irrigation.
Smoocher the Kitten in the Hump
Lately a tough New Zealand native tribe - shrubs and small trees like Pittosporums - has been relocated in the Hump. This has been successful, though the poor quality soil and the lack of irrigation make for slow growth.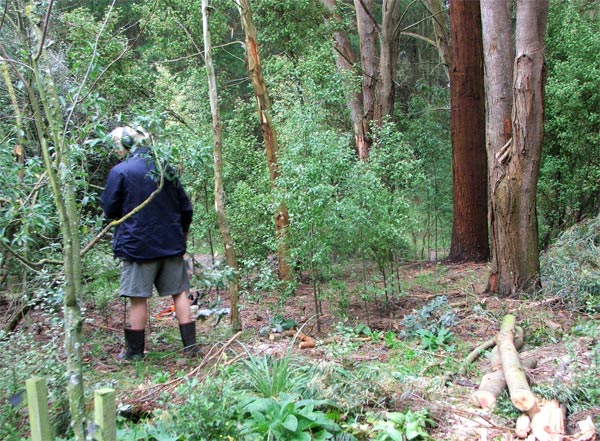 Chain-Sawing Firewood in the Hump
And as for those old pine and gum trees - the good news is that they're all going to be severely topped in the spring of 2007. Yippee!