Bishop of Llandaff Dahlia
Red Dahlia
I inherited too many red dahlias in my garden - often they've been dug out and dumped by a fence-line, where they've continued to grow. One of the few dahlias I've bought in is the Bishop of Llandaff.
Garden Snobbery...
I must admit to some garden snobbery here. I'd seen a write-up of the good Bishop in a most prestigious English gardening book. He was, apparently, THE dahlia to grow, where all others were considered (by this author, at least) tacky and vulgar. Susceptible young (well, a bit younger) me mail-ordered a tuber in, at some cost, and then waited to see what all the fuss was about.
Dark Foliage
Bishop Llandaff's blooms weren't that different to all my other common red-flowering dahlias. But his beautifully dark foliage suited his simple scarlet flowers so well, and his name could be dropped at Garden Club outings without fear.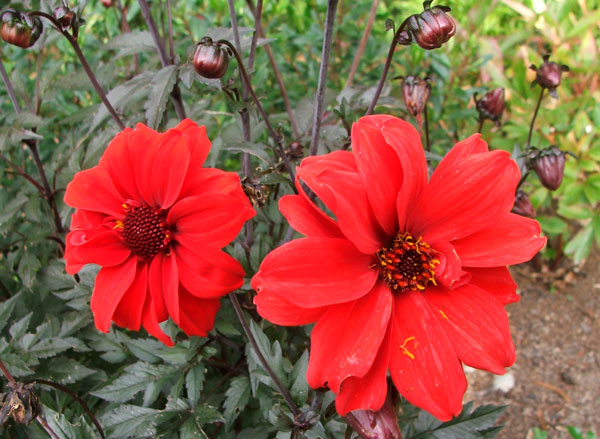 Bishop Llandaff Dahlias
I've Google-searched him, just to check that I've spelt his name correctly. Very interesting - Auckland, York, Canterbury, Oxford, Leicester, Dover and Lancaster also have bishops who are dahlias. But all the web-pages say that the Bishop of Llandaff is 'stunning'. That's nice!
Footnote
Of interest only to myself - the Bishop of Llandaff dahlia started Moosey garden life in the back of the Island Bed, before most of him was moved into the Birthday Rose Garden. A rogue piece was planted in the Shrubbery.