Side of The Island Bed
Walking through the archway from the Pond Paddock it's hard to ignore the Island Bed at any time of the gardening year. This view of the east side provides beautiful seasonal photographs. It's hard to pick which is prettier - spring or autumn.
The Island Bed in Spring
In spring there's blossom, from the recently planted pink Kanzan flowering cherry tree to the pretty white bracts of the Dogwood.
First Blossom in Winter
Actually the first pale pink blossom arrives in winter courtesy of two Prunus trees. And the glossy green Choisya shrubs are well known for their creamy white flowers in spring.
The Island Bed in Autumn
Skip through to autumn and those same trees will be colouring golden and red. Meanwhile the Pittosporums and Choisyas keep all the gaps well filled with beautiful green foliage.
Different Viewpoints
Island beds look totally different from different viewpoints - this is the general idea! My Island Bed looks at its best when viewed side-on, standing on the (hopefully green) house lawn. The plumes of Cortaderia (Pampas Grass) used to fill the middle of the garden, before a rather nasty winter snow storm flattened the grass completely. Back in the spring of 2008 I took the photograph below. You'll see a few tulips, the Choisya in flower, and some other blossom. But alas - no pampas grass.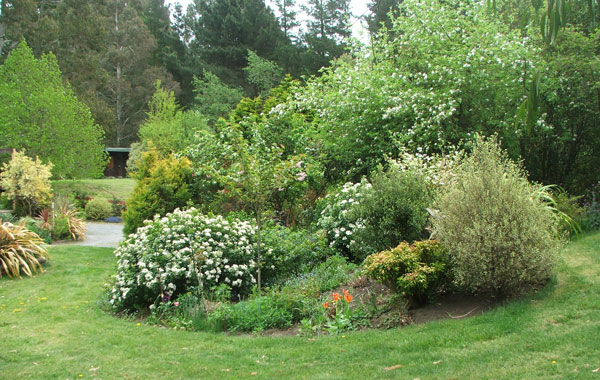 The Island Bed - Spring 2008
In the summer of 2005 I took what I thought was the ultimate, definitive photograph of the Island Bed. I should have known that my garden would have other ideas!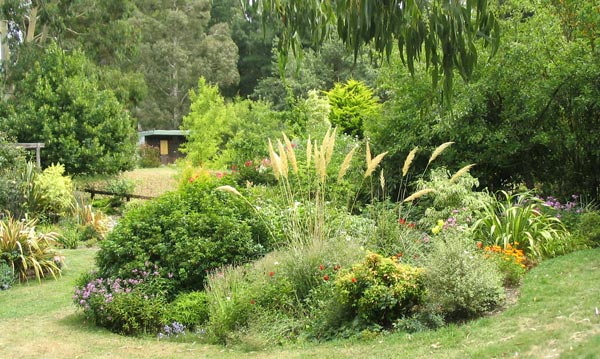 The Island Bed
Shrubs like the small Pittosporum in the top right of the garden grow slowly in the sandy soil here. The flaxes are still modest in size, and it's a case of playing spot-the-specimen-tree (a Dogwood, very beautiful, and slow to gain any height). The big evergreen Choisya shrub (Mexican Orange Blossom) on the left is a survivor - in winter it often overpowers the scale of the Island Bed, and I decide it is coming out. Hmm... In the background you can see more flaxes in the house gardens, and the distant Stables. The Moosey Garden is a very flax-ful garden!