distinguished contributor


12/4/14 Bayway Village, Fern Bay, Newcastle; NSW Australia
I looked at that rose and fell in love. For some reason, I have taken to the semi-double (Semi-single?) roses. The problem is, in this garden, I have run out of room. Not that it matters as, to my disappointment, I have found it is a NZ only rose - quelle horreur!
Last year, whilst idly trolling through the lists of roses, I found the Kordes Climber "Summer Wine" Instant gimme! You guessed it, NZ has it, Oz doesn't, and no-one seems interested in importing it. I thought "How hard can it be?" Stop sniggering! It cost $ thousands, apparently. What a shame!
In my last garden, when I had legs that worked, I had Julia's Rose, Blueberry Hill, Seduction, Class Act, and a leggy thing that looked a lot like Iceberg, but wasn't it. You should have seen a mixed bouquet of that; just ravishingly pretty!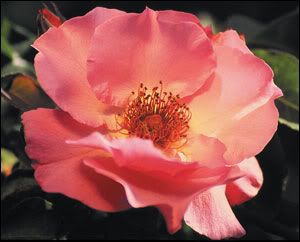 Summer Wine!
I just found the Royden Rose! Sob!